Consumer electronics startup boAt registered over 2X growth in scale for two consecutive years- FY21 and FY22. As the company continues to dominate the wearables and audio accessories segment, its profits took a back seat by 20% in FY22 as the cost of procurement outpaced its revenue growth.
According to the consolidated annual financial statements filed with the Registrar of Companies, the Delhi-based company's revenue from operations grew 2.2X to Rs 2,873 crore in FY22 as compared to Rs 1,314 crore in FY21.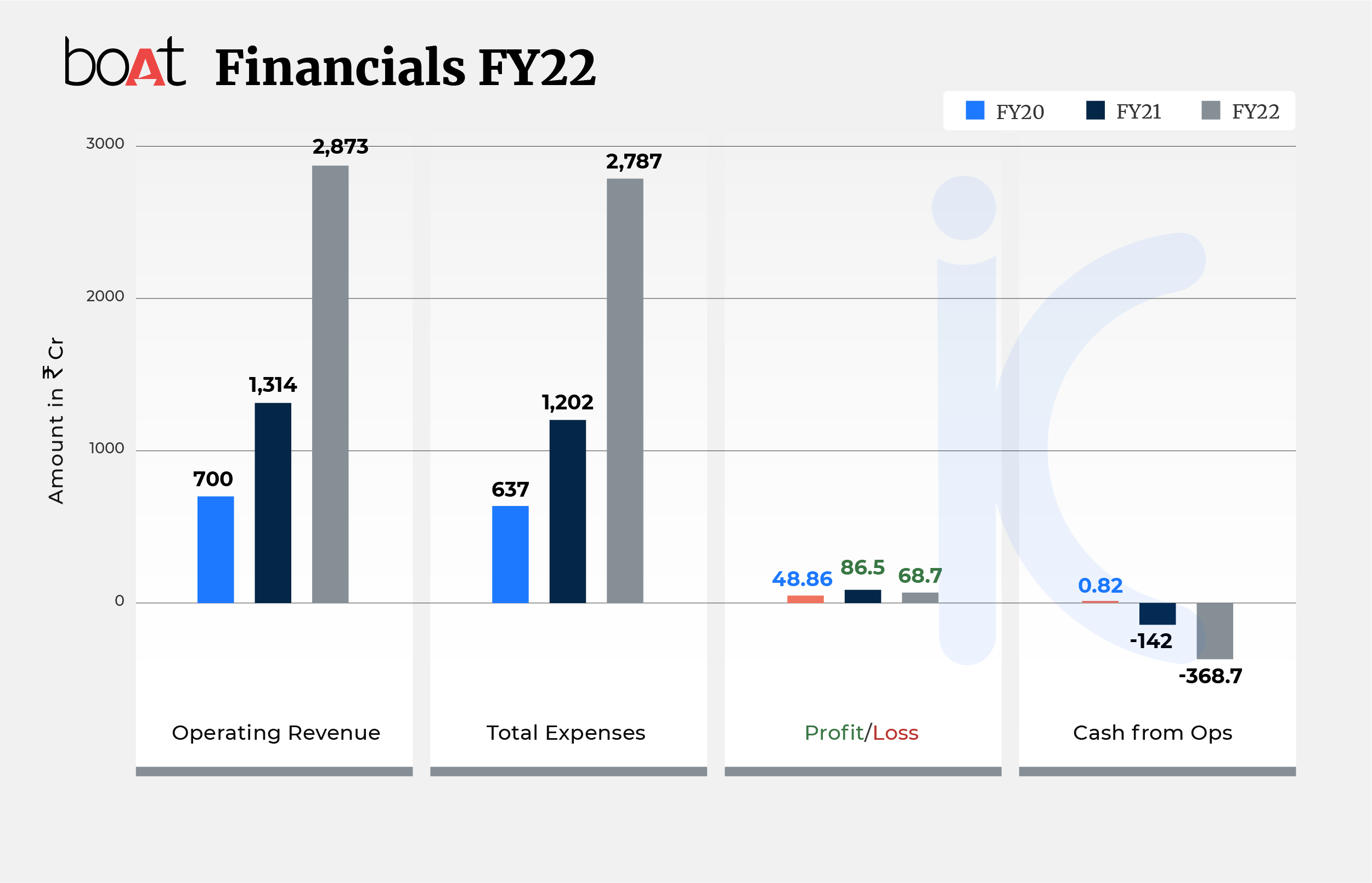 The company gets majority of its revenue from the sales of audio devices and soundbars. These contribute an overall 79.2% to the total collections. Income from this vertical rose 85.3% to Rs 2,276 crore during FY22 from Rs 1,228.6 crore in FY21.
There was a start increase in the total revenue; the company recorded a 9.4X rise to Rs 515.5 crore in FY22 which was previously Rs 54.8 crore in FY21. 18% of this revenue was contributed by the sales of wearables including smart watches.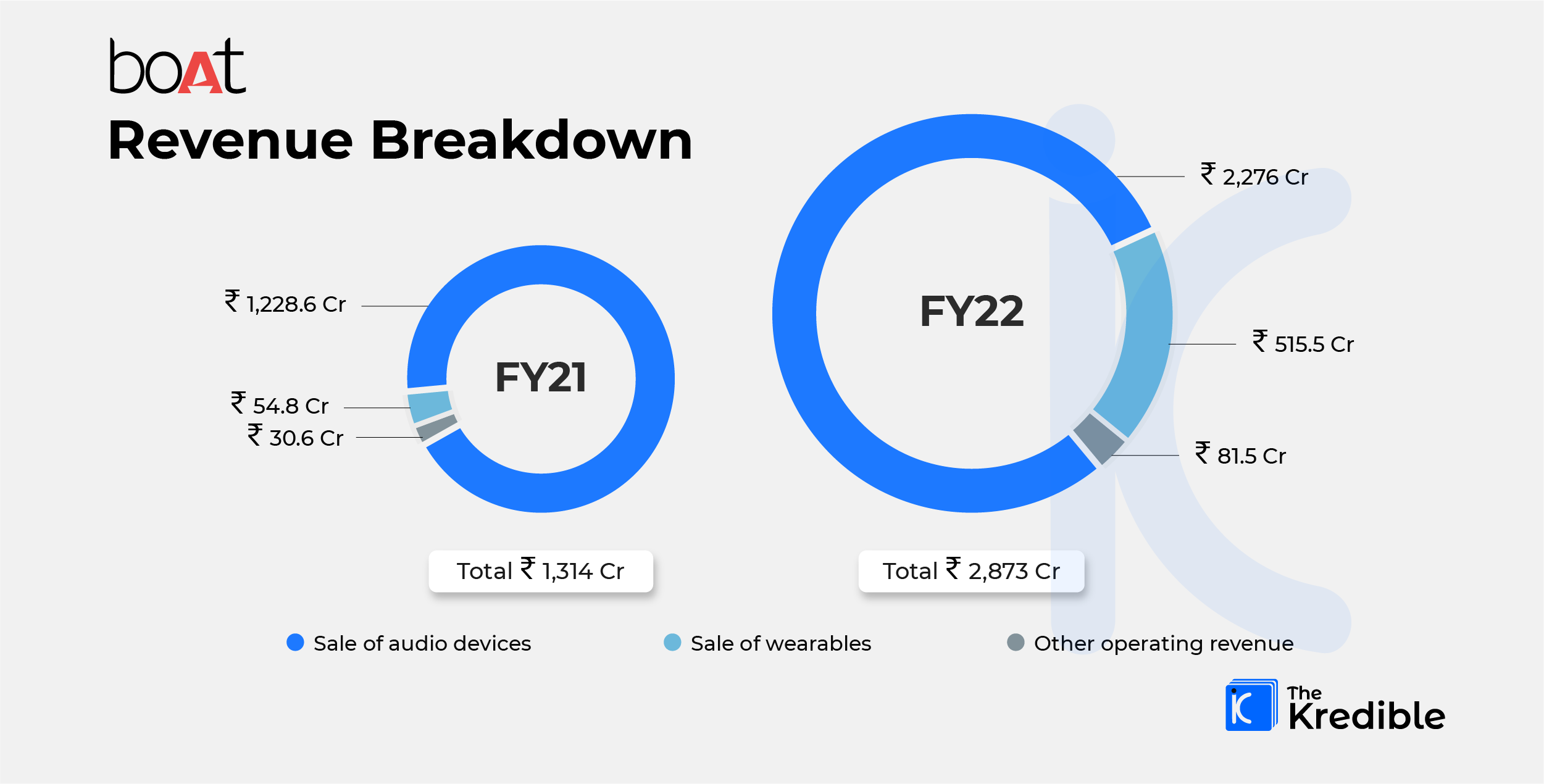 The sales of cables, charges, men's grooming kits, and gaming equipment gave the company a revenue of Rs 81.5 crore. With interest on fixed deposits and other non-operating income, boAt reported Rs 13.5 crore in finance income in FY22.
According to Counterpoint Research, boAt leads the true wireless stereo segment with a market share of 46% as of Q2 FY22. Noise, Boult, MIVI, and pTron followed boat on the list.
In terms of production, nearly 85% of the devices are being imported from other nations, primarily China. A whopping 80% of the total expenditure was used for the cost of procurement, making it the largest cost element for the company. This cost which was previously Rs 1,020.84 crore in FY21 increased 2.3X to Rs 2,346.6 crore in FY22.
boAt's outsourced warranty claim expenses rose 2.6X Rs 136.6 crore in FY22; the company outsources after-sale services to third party contractors as well. Accompanying the segments of the company which rose is expenses was the employee benefits expenses- it rocketed 3.8X to Rs 56.12 crore in the last fiscal year.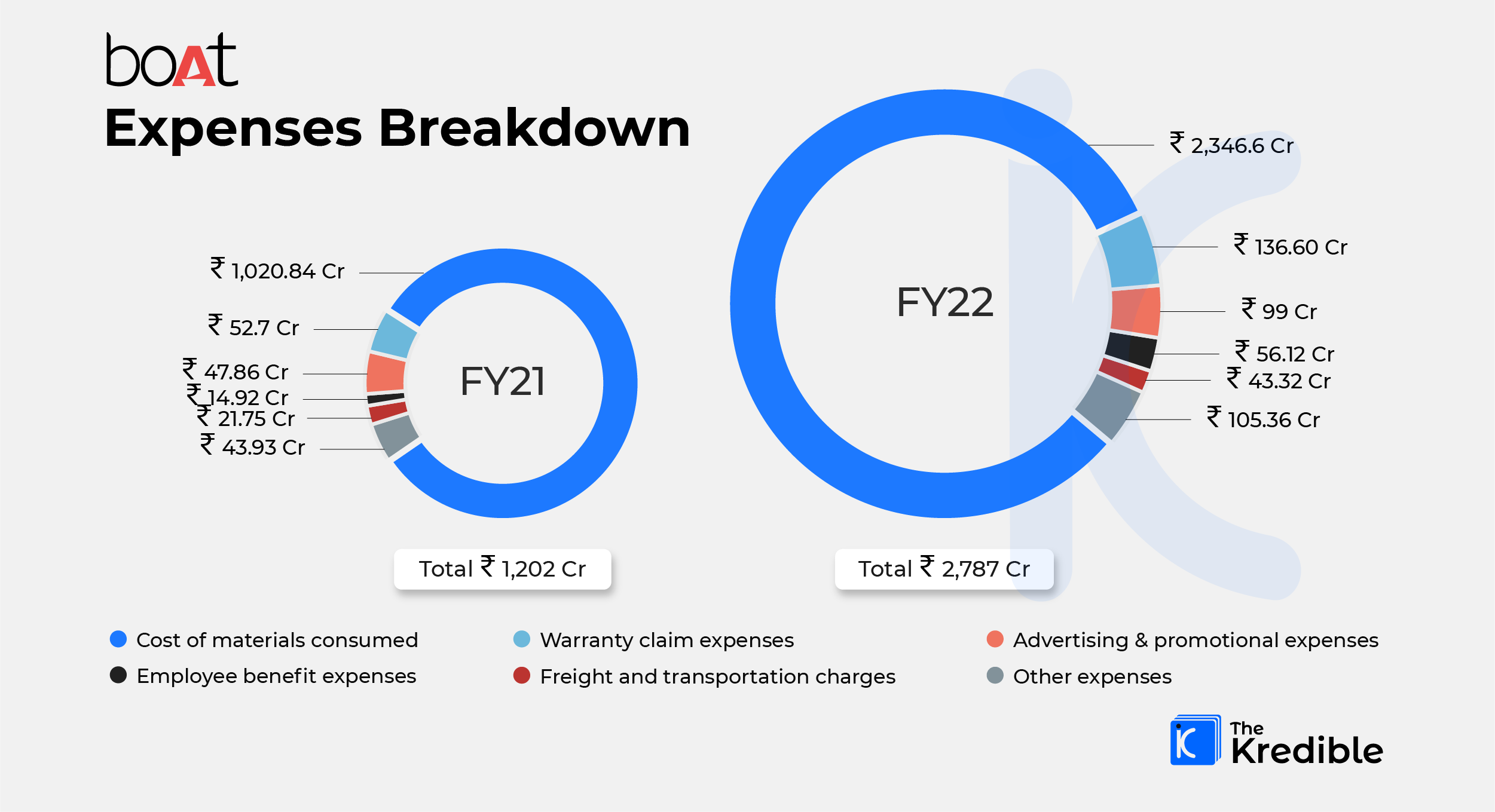 boAt spent just 3.6% of its total costs on marketing, in contrast to the majority of unicorns and other consumer electronics businesses. During FY22, this cost was Rs 99 crore.
The company previously incurred a total expenditure of Rs 1,202 crore in FY21, this number increased 2.3X to Rs 2,787 crore in FY22. Logistics and legal fees cost Rs 43.32 crore and Rs 17 crore respectively.
boAt's profits decreased by 20.6% to Rs 68.7 crore in the most recent fiscal year from Rs 86.5 crore in FY21 due to a 2.3X increase in overall costs. It also saw a 2.6X Rs 368.7 crore rise in its cash outflows from operations during the financial year that ends in March 2022.
As per Fintrackr's analysis, EBITDA margin and ROCE were depressed to 4.96% and 19.86% respectively which could be due to the higher cash burn during FY22. During the course, boAt spent Re 0.97 to earn a rupee of operating income.

boAt filed its DRHP with SEBI to launch its initial public offer (IPO) worth Rs 2,000 crore and got approval for the same in May 2022. However, it withdrew its listing plans and instead went for a $60 million fresh round from Warburg and Malabar in October 2022.
boAt directly competes with the bootstrapped firm Noise which also registered a 2.26X growth in its operating scale to Rs 793 crore during FY22. Contrary to boAt's current financials, Noise managed a 9% growth in its profit which stood at Rs 36 crore in the last fiscal year (FY22).
Popular with the public for its affordable and cool image, the company has had a fantastic journey so far. The strong platform dependence as well as the risk of disruption from any of the upstarts in the market is a constant limitation and threat for boAt. The brand is likely to face problems with the margin and how it chooses to react and handle it will decide its path further.