Logistics and supply chain services company Delhivery filed its draft papers with SEBI to raise Rs 7,460 crore through an Initial Public Offering (IPO).
According to the draft red herring prospectus (DRHP), Delhivery's upcoming public offer constitutes a fresh issue of Rs 5,000 crore and an offer for sale (OFS) of Rs 2,460 crore. Delhivery's backers Carlyle Group will offload shares worth Rs 920 crore, followed by Softbank which will sell shares worth Rs 750 crore.
Fosun International and Times Group will also participate in the OFS, selling shares worth Rs 400 crore and Rs 330 crore respectively.
Early backer Kapil Bharti will offload shares worth Rs 14 crore and co-founders Mohit Tandon and Suraj Saharan plan to liquidate shares worth Rs 40 crore and 6 crore respectively.
Notably, other key members of the company such as Sahil Barua, Sandeep Kumar Barasia, Ajith Pai and Amit Agarwal are not participating in the OFS.
Delhivery intends to use Rs 2,500 crore to fund its organic growth initiatives including scaling up existing verticals along with the development of new adjacent business lines, expanding its network infrastructure with new warehouses and automated supply chain centers.
Besides that, it will use around Rs 1,250 crore to make strategic investments in other entities and the remaining Rs 1,000 crore for general corporate purposes.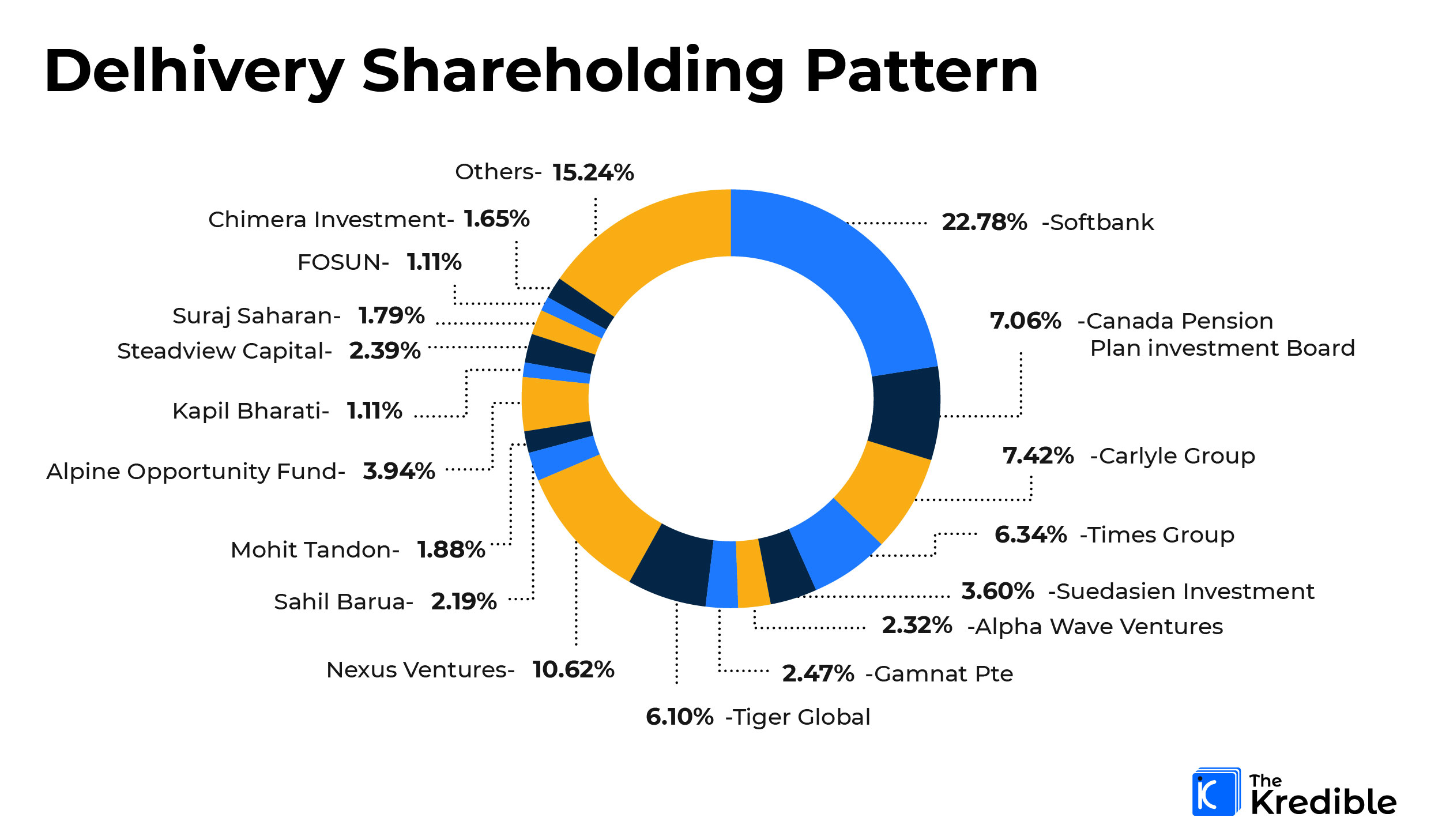 SoftBank, with a 22.78% stake, is Delhivery's largest shareholder followed by Nexus Ventures Partners which controls 10.62%, as per the DRHP. Other notable investors include Carlyle Group, Canada Pension Plan Investment Board, Times Group and Tiger Global which hold 7.42%, 7.06%, 6.34% and 6.1% respectively.
Also, Barua, Saharan, Bharati, Barasia, Pai and Amit Agarwal have been granted stock options that will elevate their respective stakes, details below.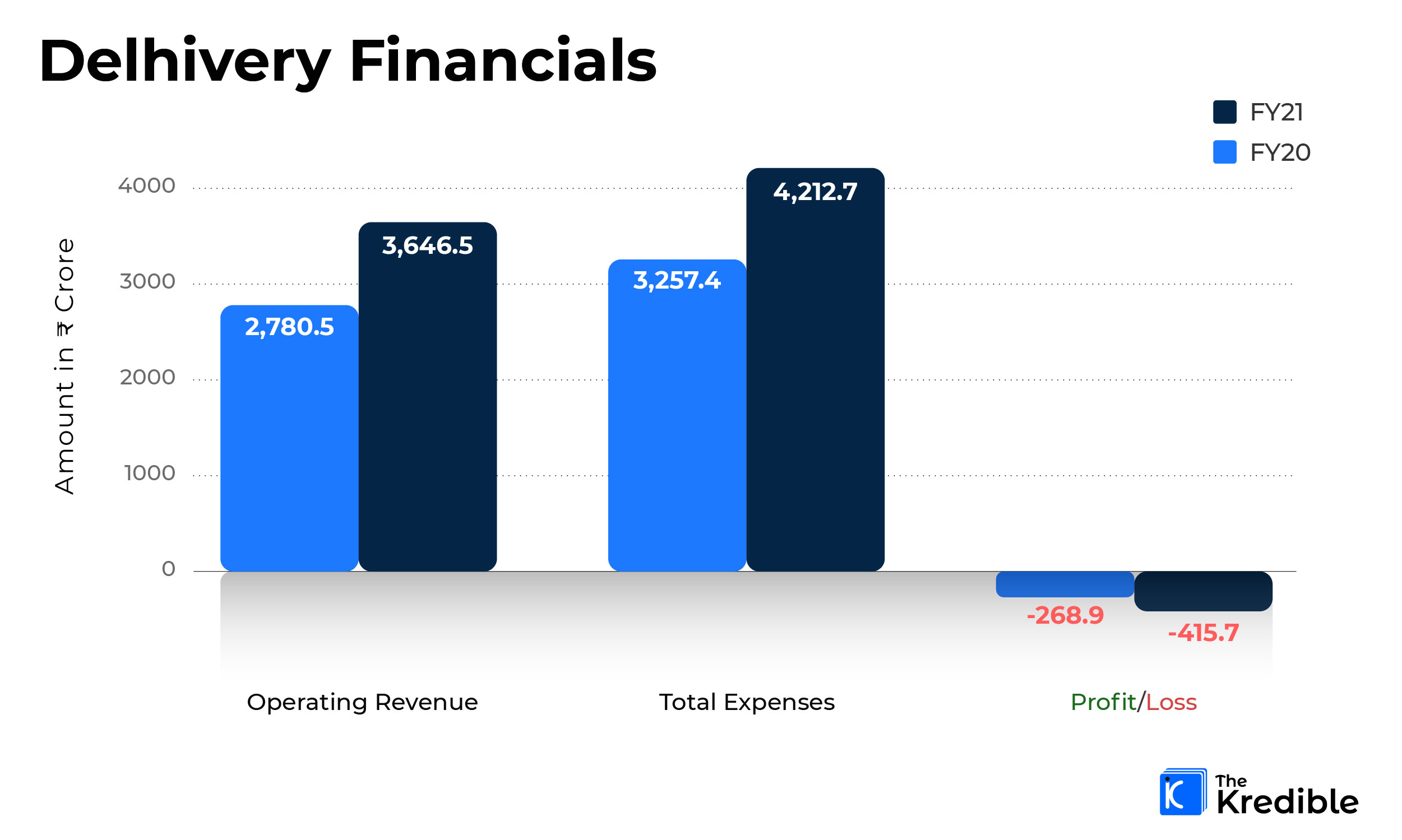 Delhivery saw a 31% jump in its operating revenue of Rs 3,646.5 crore in FY21 from Rs 2,780.5 crore in the previous fiscal, according to the DRHP. Net losses however surged from Rs 269 crore in FY20 to Rs 415.7 crore in FY21.
According to revenue and loss figures for the first quarter of the ongoing financial year i.e. Q1 FY22 present in the company's DRHP, Delhivery registered Rs 1,318 crore in revenue and Rs 129.6 crore total loss for the three months period (April-June).
Delhivery had also raised over $500 million across three rounds in 2021 including $125 million led by Addition in September, $100 million led by FedEx Express in July and $277 million led by Fidelity in May. The company has raised $1.44 billion to date and was valued at around $3 billion as of May 2021.
As of June 2020, the company claims to have 20 fully and semi-automated sortation centres and 86 gateways across India.