The transportation business was hit hard by COVID-19 globally and the ravaging pandemic and subsequent lockdowns strangulated growth and revenue for ride-hailing majors Uber India and Ola.
While Uber suffered over 47% decline in operating revenue in FY21, Ola's collections faced a much higher erosion of 63%, amounting to Rs 983.2 crore during FY21. In comparison, in FY20, Ola's operating revenue had grown 4.7% YoY to Rs 2662.63 crore, according to the company's regulatory filings.
Ride-hailing was the largest operating segment for Ola, accounting for 90% of its revenue in FY21. Ola was hit hard in this segment as it saw a 57.8% dip in collections, reducing to Rs 884.3 crore in FY21 as compared to Rs 2,096.1 crore in FY20.
Ola's revenue from collecting lease rentals from drivers on its platform also saw a significant decline, as revenue in this segment dropped by a huge 93.2% YoY to Rs 33.3 crore in FY21.
The Bengaluru-based company's cloud kitchen and financial services business collectively generated Rs 65.6 crore in FY21.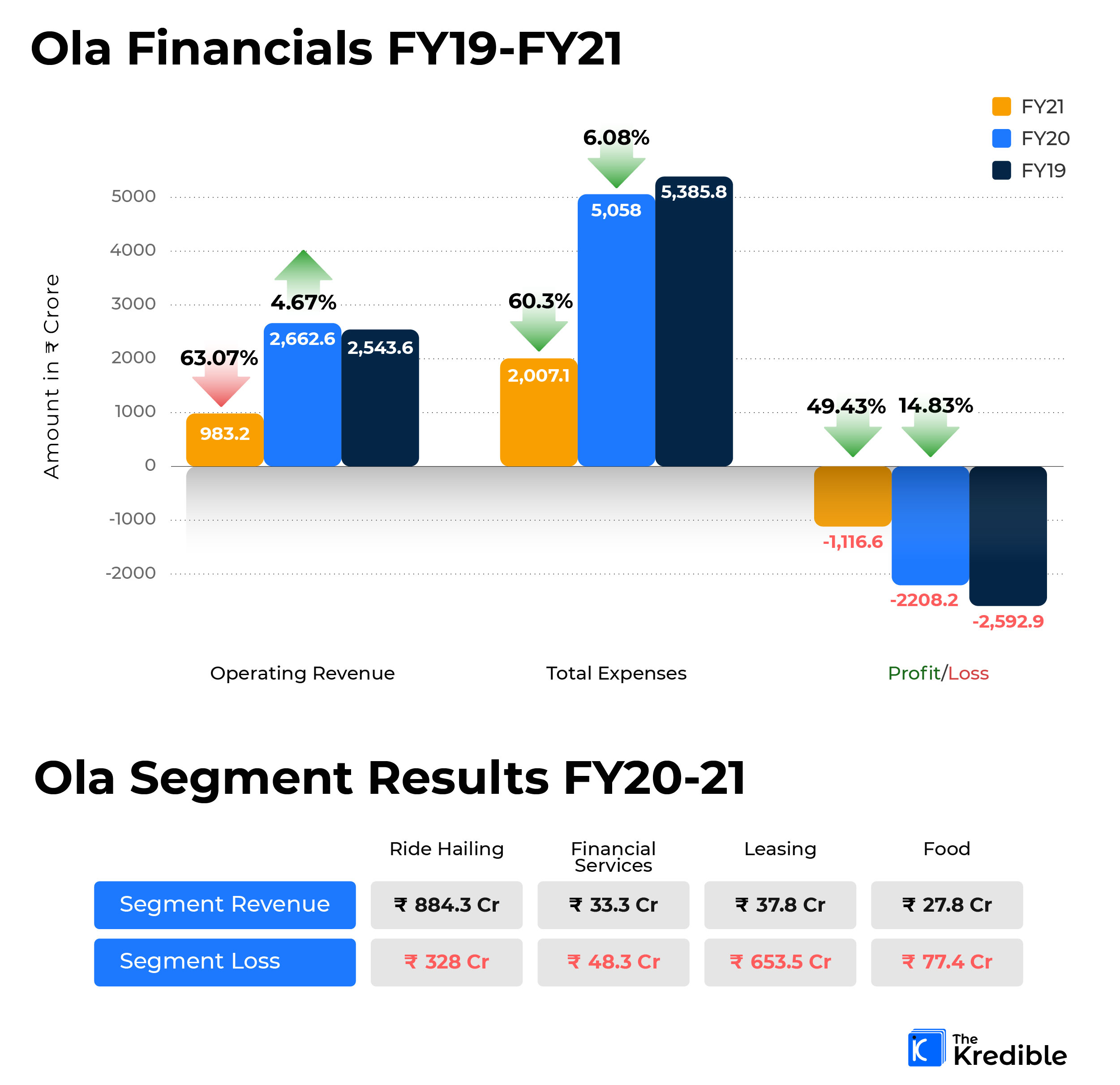 Rs 982 Cr: Ola's losses in ride-hailing and cab-leasing business
Ola suffered losses of Rs 328 crore in its ride-hailing business in FY21. It also lost Rs 653.5 crore in its cab-leasing segment in the same fiscal. Its financial services and cloud kitchen segment lost Rs 48.3 crore and Rs 77.4 crore respectively in the same period.
Expenses from employee benefits accounted for close to 22% of Ola's annual costs, even though there has been a reduction in this cost over the last three years. Ola had laid off more than 1,400 employees in FY21 and its employee costs reduced by 27.4% YoY to Rs 436.3 crore in the last fiscal (FY21). These expenses had dropped by 20.55% to Rs 600.8 crore in FY20.
Ola's marketing spend reduced by 72% in FY21
To counter the cash burn, Ola put in place cost reduction measures, and marketing spend was one cost centre where these measures were clearly visible. The company's expenditure on advertising and promotions reduced by 72.1% to Rs 135.4 crore in FY21 from Rs 485 crore spent in FY20. Vehicle running expenses were also reduced by 96.2% to only Rs 9.33 crore during FY21.
Finance and depreciation costs make a large part of Ola's expenses sheet due to vehicle loans and booking of depreciation on its fleet of cars. These costs formed nearly 27% of annual costs and stood at Rs 538.1 crore in FY21.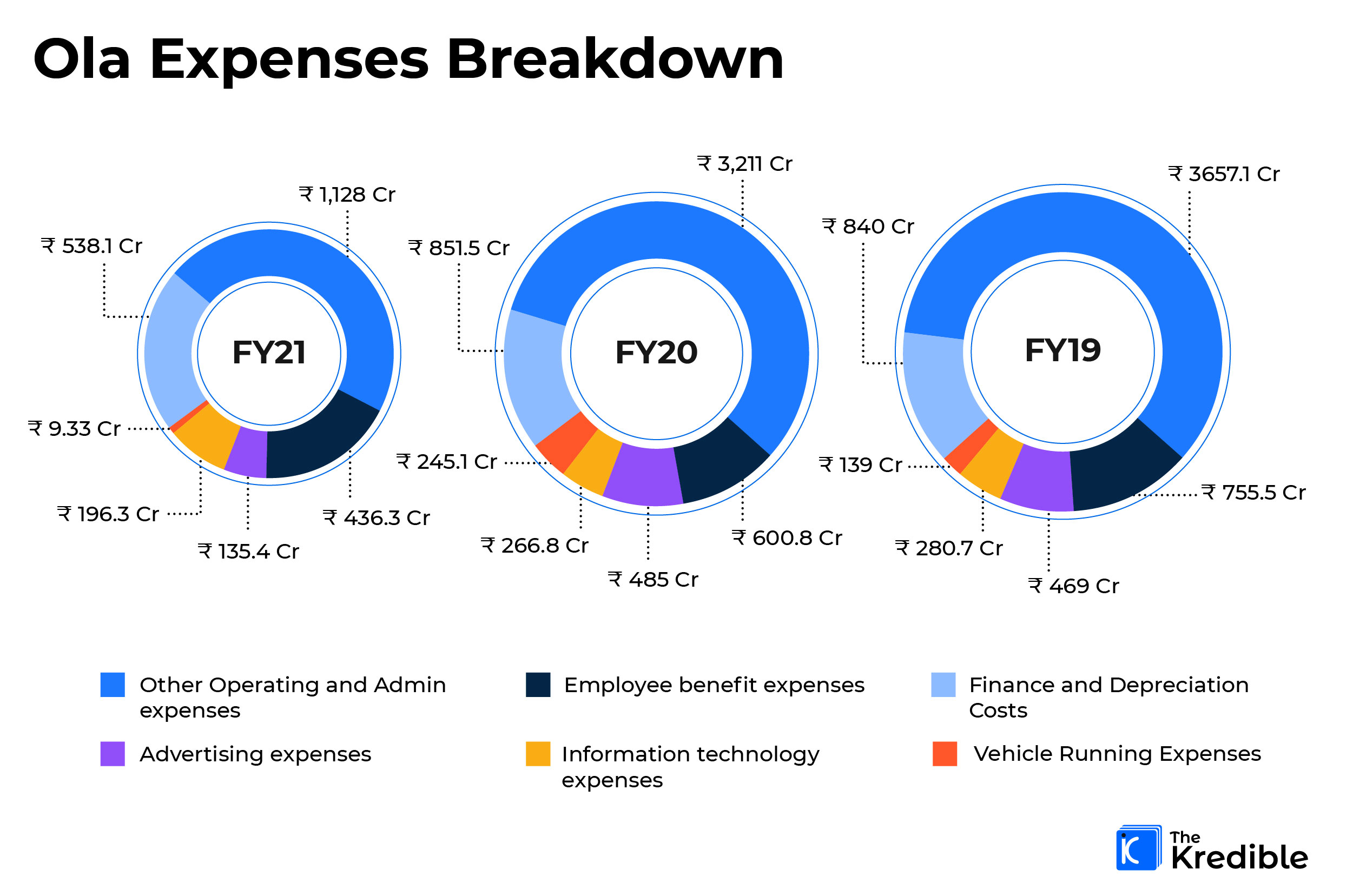 The curious case of Ola's "Miscellaneous Expenses"
Interestingly, the company's "miscellaneous expenses" totalled Rs 428.2 crore in FY21 Rs 2,116.84 cr in FY20 and Rs 2,363.7 crore in FY19. These mostly constituted driver-related payments, cost of stock options given to certain shareholders and manpower expenses incurred by the company.
The Kredible could not get further details related to this line item due to discrepancies in Ola's annual financial statements with the RoC and the company refused to provide further details regarding these miscellaneous expenses.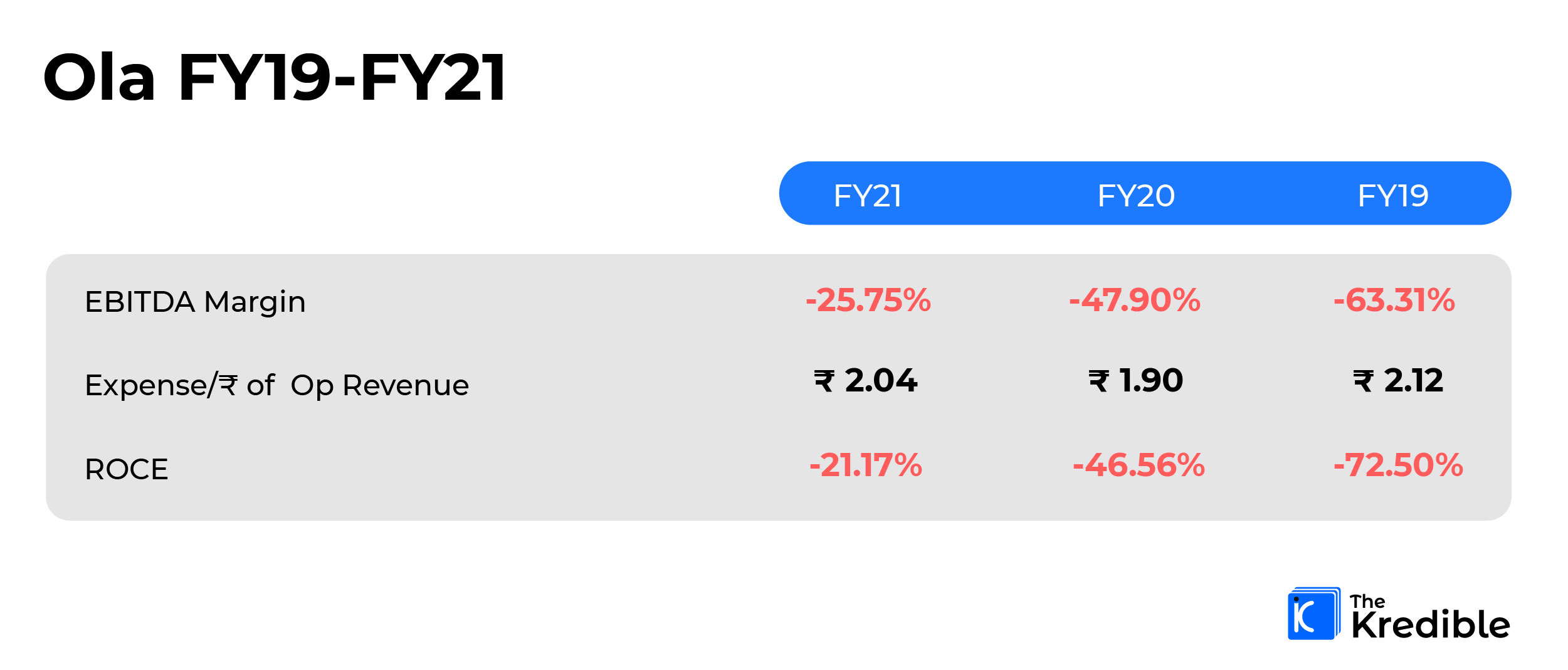 The company's annual burn was reduced by 60.3% YoY to Rs 2007.1 crore during FY21 primarily due to the reduced scale of operations during the pandemic hit year. Annual losses were also reduced by 49.4% YoY to Rs 1,116.6 crore during FY21 while EBITDA margins stood -21.17% for the same period.
Ola's outstanding losses stood at Rs 17,453 Cr
All of Ola's operating segments continued to lose money as outstanding losses amounted to a colossal Rs 17,452.61 crore as of 31st March 2021. The company is set to make its debut in the public market by the end of FY22, but it's still to hit profitability in any segment.
For a 10 year old company, Ola's financial performance is far from being healthy. However, since it has claimed to surpass pre-covid peak in September, its collection may improve in FY22. The company also forayed into the used car retailing segment in the ongoing fiscal and this could potentially help improve revenue figures.
The standalone balance sheet of ANI Technologies sported EBITDA of Rs 89.82 crore during FY21 before considering an "exceptional expense" of Rs 1,402.4 crore. These were the loans provided to other supporting subsidiaries of ANI during the year which are now being written off. The company has written off Rs 2,309.3 crore in the last two years as "exceptional expenses".
That said, given that Ola's co-founder and chief executive Bhavish Aggarwal has been prioritising Ola Electric (they launched a massive manufacturing plant in Tamil Nadu), it's unclear whether the company's decade-old business (ride-hailing) may grow as significantly in FY22 as it did in the past.