Swiggy-backed bike-taxi aggregator Rapido has continued to bleed money as its losses have increased 2.6x in the fiscal year ending March 2022. Interestingly, Rapido was widely dubbed as a soonicorn in April last year as it scooped $180 million at a valuation of more than $800 million. The increased valuation, however, can be attributed to the company's 90% growth in scale in FY22.
The bike-taxi aggregator saw its revenue from operations grow to Rs 144.8 crore in FY22, posting an impressive 91.5% growth, reveals the annual financial statement with the Registrar of Companies (RoC). In the previous fiscal year, it had recorded Rs 75.6 crore in revenue.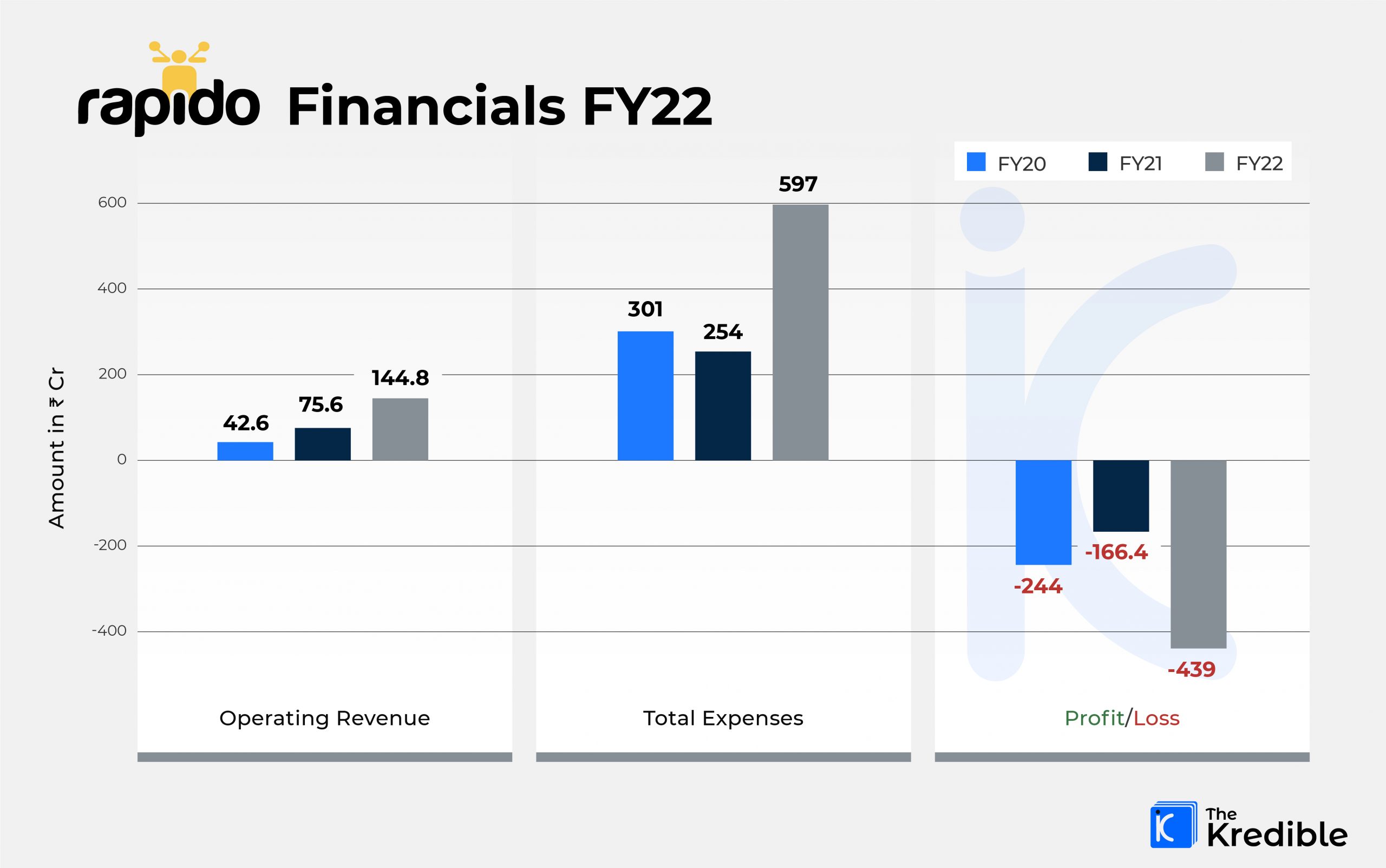 The company's collection from providing bike taxis, autos, and delivery services along with subscriptions and marketing stood at Rs 144.8 crore. The revenue from interest on current investments and other non-operating income in FY22 delivered Rs 13.2 crore.
Incentives and other related charges were the biggest cost center for the firm as they cumulatively contributed 35.8% of the total expenses in FY22. These expenses have grown nearly 3X to Rs 213.6 crore in the said fiscal year, up from 70.6 crore in FY21. Marketing costs accounted for 29.6% of the total expense, which rose 5.4x to Rs 176.7 crore in FY22.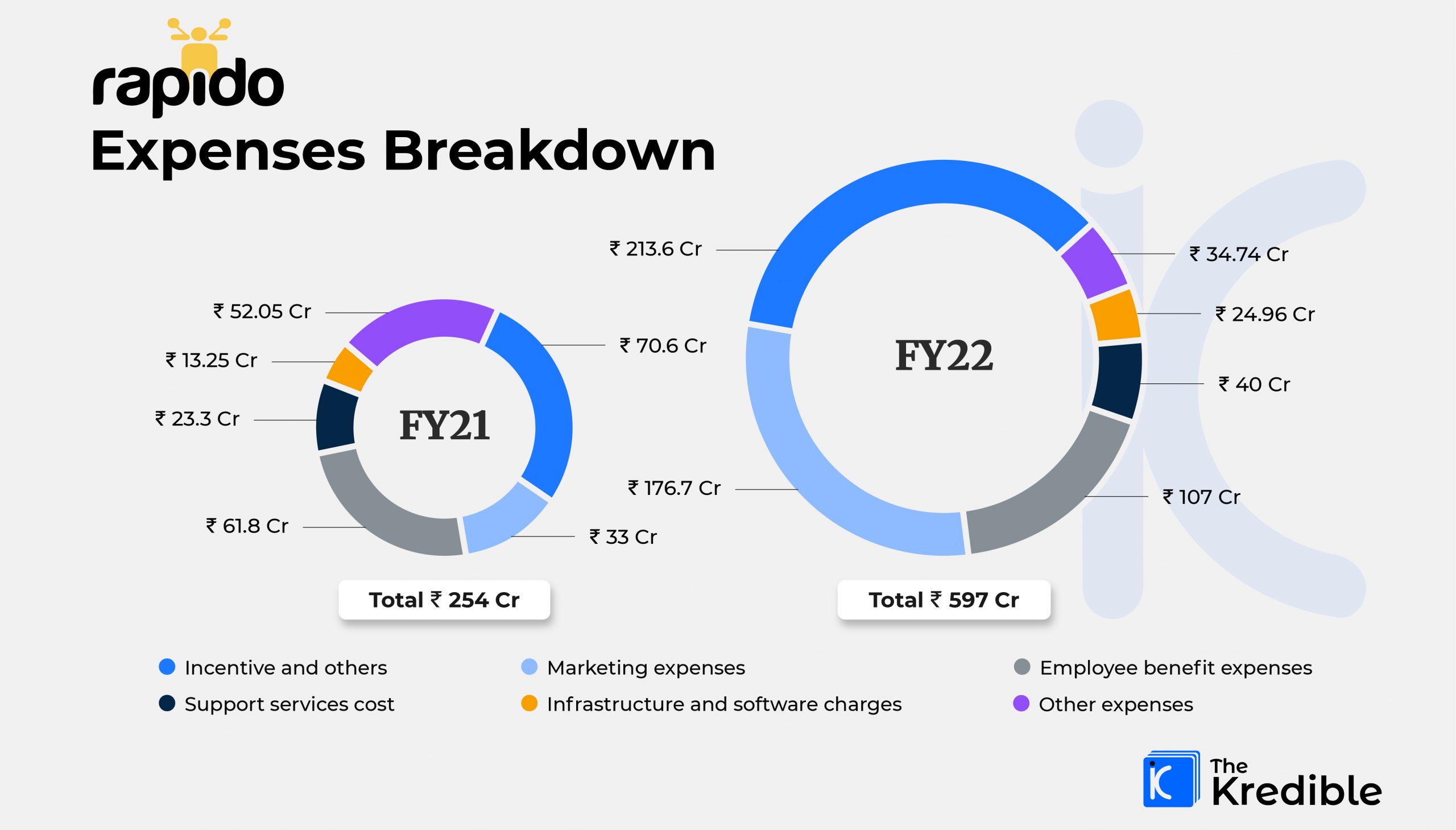 Rapido also spent more on employee benefits, which rose 73% to Rs 107 crore in the fiscal year. The company also spent Rs 40 crore on contractual labor support. During this period, employee benefits expenses are also inclusive of ESOP cost of Rs 5.8 crore. The company incurred Rs 24.96 crore on infrastructure and software charges. This took the total expenditure by 2.3x to Rs 597 crore in FY22 as compared to Rs 254 crore in FY21.
The company spent more than two times in comparison with the previous fiscal year to achieve a 90% growth. Naturally, its losses have risen 2.6x to Rs 439 crore in FY22. The company also reported Rs 437 crore in cash outflows from operations, which rose 2x in the fiscal year.
EBITDA and ROCE too softened to -274.52% and -1029.72%. The overall unit economics was also affected, as the company spent Rs 4.12 to earn a rupee of operating income during the year.

Rapido, which has raised more than $300 million to date, and other mobility firms have come under the regulatory scrutiny in several states. Rapido, backed by firms like WestBridge and Nexus Ventures, was asked by the Bombay High Court recently to halt its services in Maharashtra. The company has now moved the Supreme Court to challenge the high court's order.
In October 2022, the Karnataka government declared that auto rickshaw services on Ola and Uber were not legal. Telangana Gig And Platform Workers' Union (TGPWU) have also called for a ban on ride-hailing startups like Rapido, Ola, and Uber. In July 2022, the Meghalaya transport department imposed a ban on the plying of two-wheelers (bikes and scooters) operating as taxi services both online and offline in Shillong.
It's evident that companies like Rapido face multiple legal challenges. That being said, Rapido does have a big market opportunity, as seen in other parts of Asia, especially Southeast Asia. It's likely regulators will figure out a way for such platforms to exist.