The ravaging COVID-19 pandemic was also a nightmare for mobility startups and ride-hailing majors Uber and Ola. Uber India's operating income shrank by 47.3% during the financial year ending March 2021.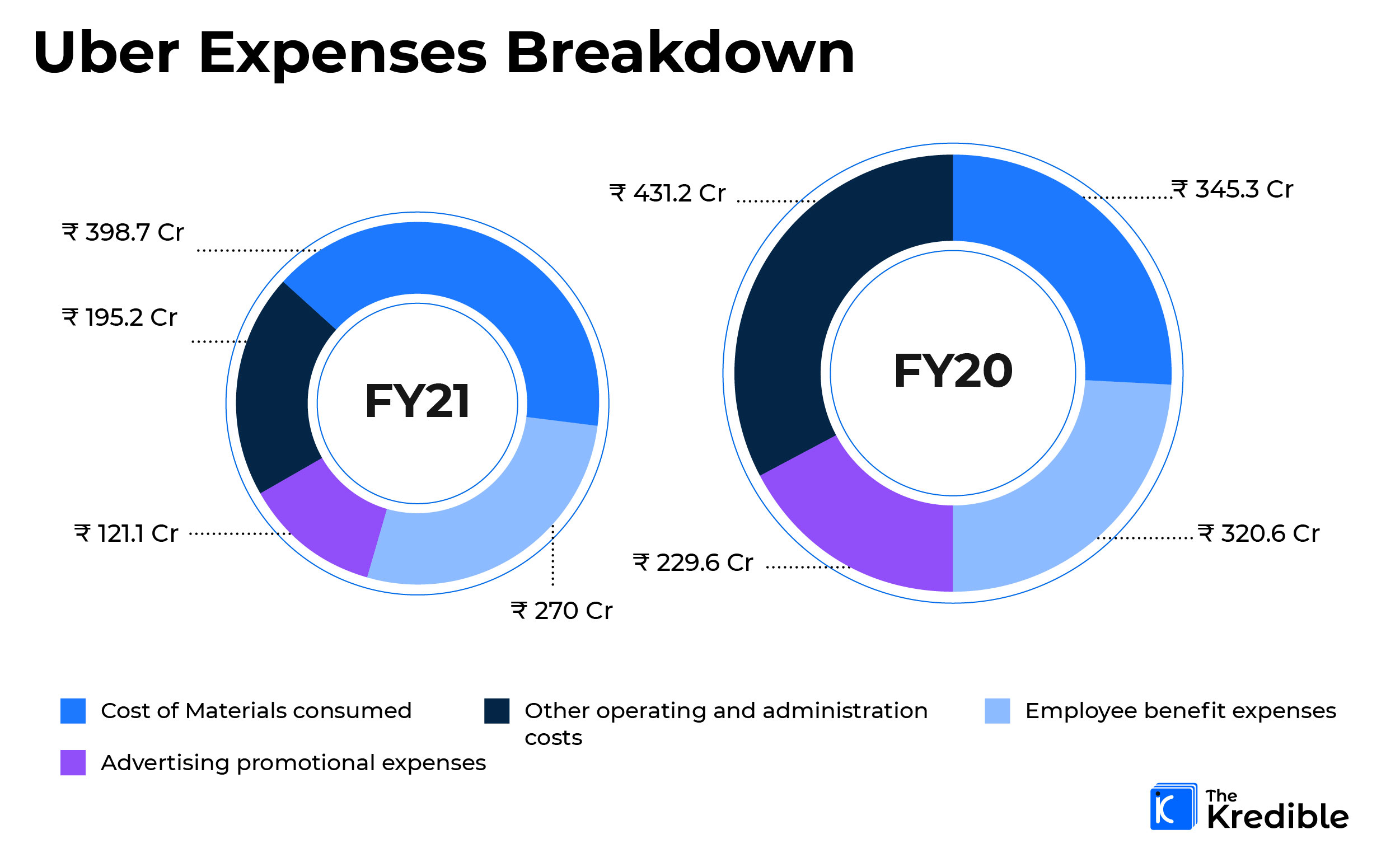 In FY20, the company had an operating income of Rs 703.1 crore and that fell to Rs 370.5 crore during FY21. During the last fiscal, around 81% or Rs 300 crore of these revenues were generated from Uber's ride-hailing business while the remaining Rs 70.5 crore were collected from Uber Inc. for the provision of business support services to group companies.
The business support segment made up a larger part of Uber's revenue during FY20 when it collected Rs 560.33 crore from its Amsterdam based parent in lieu of support services provided during that fiscal.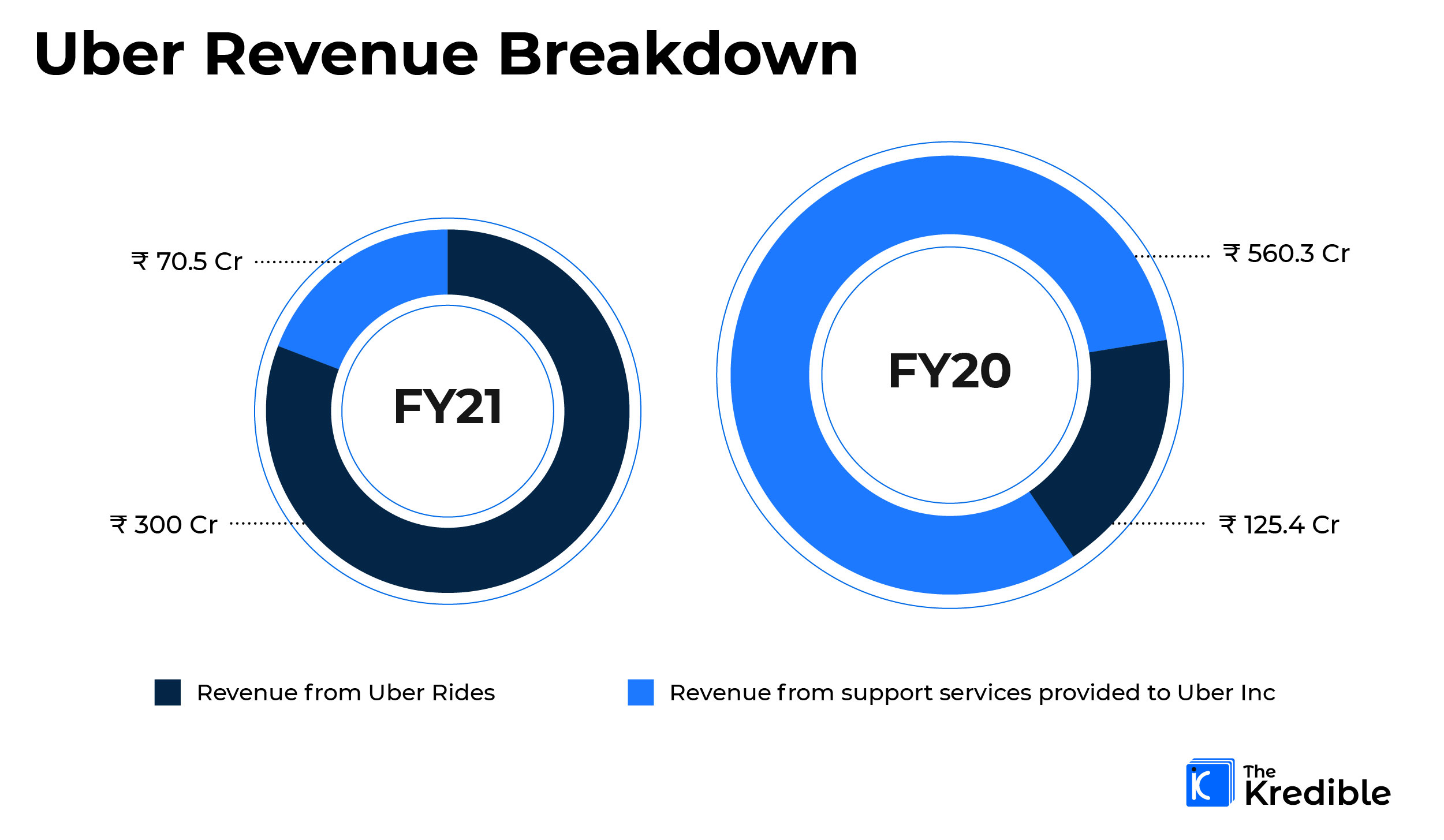 Uber India lost Rs 603 Cr in ride-hailing biz in FY21
Uber India lost Rs 602.7 crore on the ride-hailing segment. However, its support services raked in a profit of Rs 5.54 crore during FY21.
Marketing cost shrank
Due to contracted demand in the last fiscal, the company's management put in a cost reduction measure and cut back its advertising and promotional costs by 47.3% to Rs 121.1 crore in FY21 from Rs 229.6 crore spent during FY20.
The cost of incentives and discounts incurred by the company also dropped by nearly 80% to Rs 91.5 crore in FY21 as compared to Rs 454.7 crore spent on discounts to users and incentives given to drivers on its platform.
Expense on salaries and its driver ecosystem cost Rs 668 Cr
Employee benefits costs incurred by the company were also reduced by 15.8% to Rs 270 crore. Uber India had laid off over 500 employees in May 2020 and it is possible that the downsizing resulted in this dip.
Uber had sold UberEats to Zomato which also included a 9.99% stake in the latter for Uber, which could be a silver lining for the year, after Zomato's IPO and high ruling price currently, putting the value of the stake at almost $1.3 billion, or Rs 10,000 crores.
Uber India has recognised Rs 398.7 crore as "cost of materials consumed" in its income statement, which likely represent the payments to fleet operators, drivers and other external contractors for its ride-hailing business.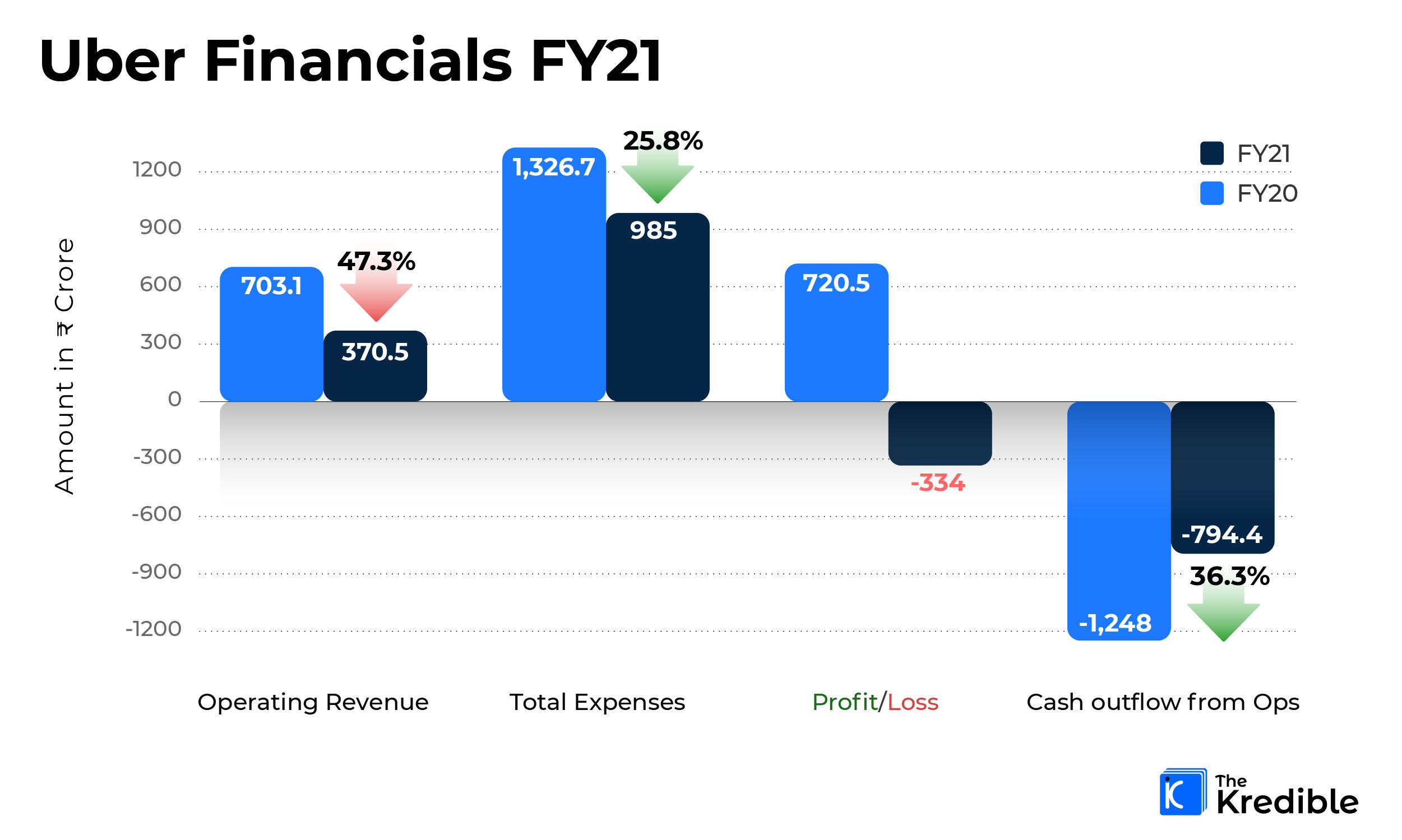 Expenses contracted by 'just' 26%
Uber India's net cash outflow from operations dipped 36.3% to Rs 794.4 crore during FY21 as compared to outflows of Rs 1,248 crore in FY20. Total annual expenses shrunk by 25.8% to Rs 985 crore in FY21 from Rs 1326.7 crore spent in total during FY20.
On a unit level, Uber India spent Rs 2.65 to earn a single rupee of revenue during FY21.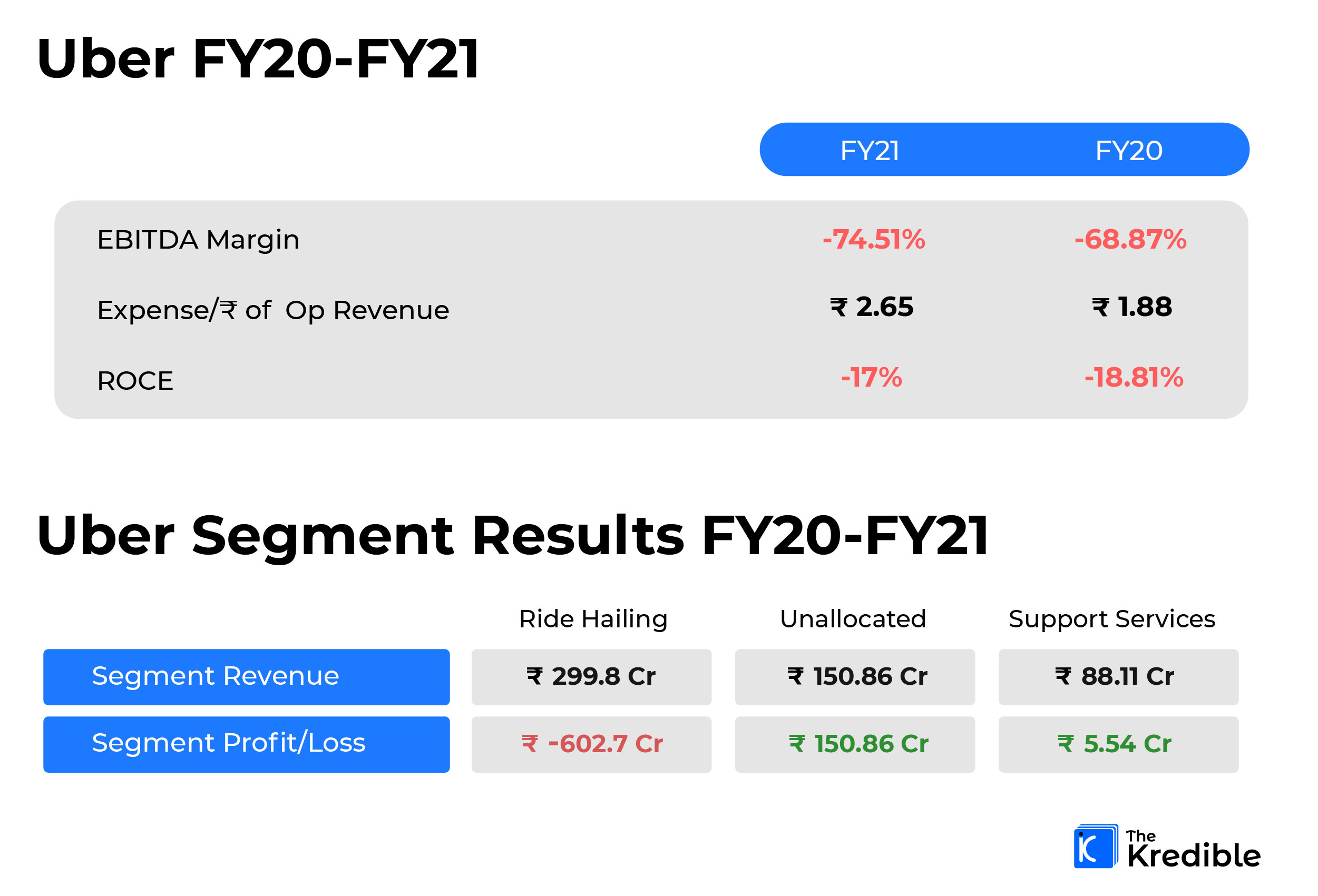 While the company had posted a profit of Rs 720.7 crore during FY20 on account of the sale of UberEats to Zomato, in FY20, its annual losses stood at Rs 334 crore. It continues to bleed cash on its core ride hailing business.
While the shrinking of Uber India's revenue and even losses is no surprise considering the disruptions during the year, the wide gap between revenues and expenses will worry the firm in a market it considers a key one.
In the US and other key markets, the company is yet to turn the corner into profits for its ride-hailing business. In the US, its food delivery business has become larger than its core ride-hailing business. On a consolidated basis, Uber is expecting to post a profit (estimated $25 million) for the first time in the current quarter.
While that may or may not happen this quarter, it would seem that Uber's Indian entity would need at least two-three fiscals more to come close to breaking even.
A sticky issue that could really help would be the resolution of its tax problems in India. The company has several tax cases pending disposal. Uber has recognised these probable tax payments as contingent liabilities in its balance sheet, including Rs 371.6 crore regarding income tax matters and Rs 879.1 crore of GST payables.