GoMechanic had raised $42 million in a new round led by Tiger Global in June and the New York-based investor then picked up 34 employee stock options (ESOPs) from the employees along with other backers including Sequoia, Chiratae and Orios Fund, according to regulatory filings.
The liquidation of these employee stock options was done at the company's latest valuation ($325 million) without any discount, keeping in line with its progressive stance regarding wealth creation amongst its employees.
GoMechanic's total stock option pool for employees made up 5.79% stake in the company and is currently valued at $19 million.
Sequoia Capital is the biggest stakeholder in GoMechanic, controlling 27% stake in the company. The company's co-founders Kushal Shailesh Karwa and Amit Bhasin own 11.11% each whereas Rishabh Karwa and Nitin Rana own 1.66% each.
Collectively, the four co-founders own 25.54% of the company which is currently valued at $83 million. Its early backers Orios and Chiratae command 17.14% and 10% respectively. Tiger owns 10.54% while Kunal Bahl and Rohit Bansal own 1.46% each.
Complete shareholding can be seen below: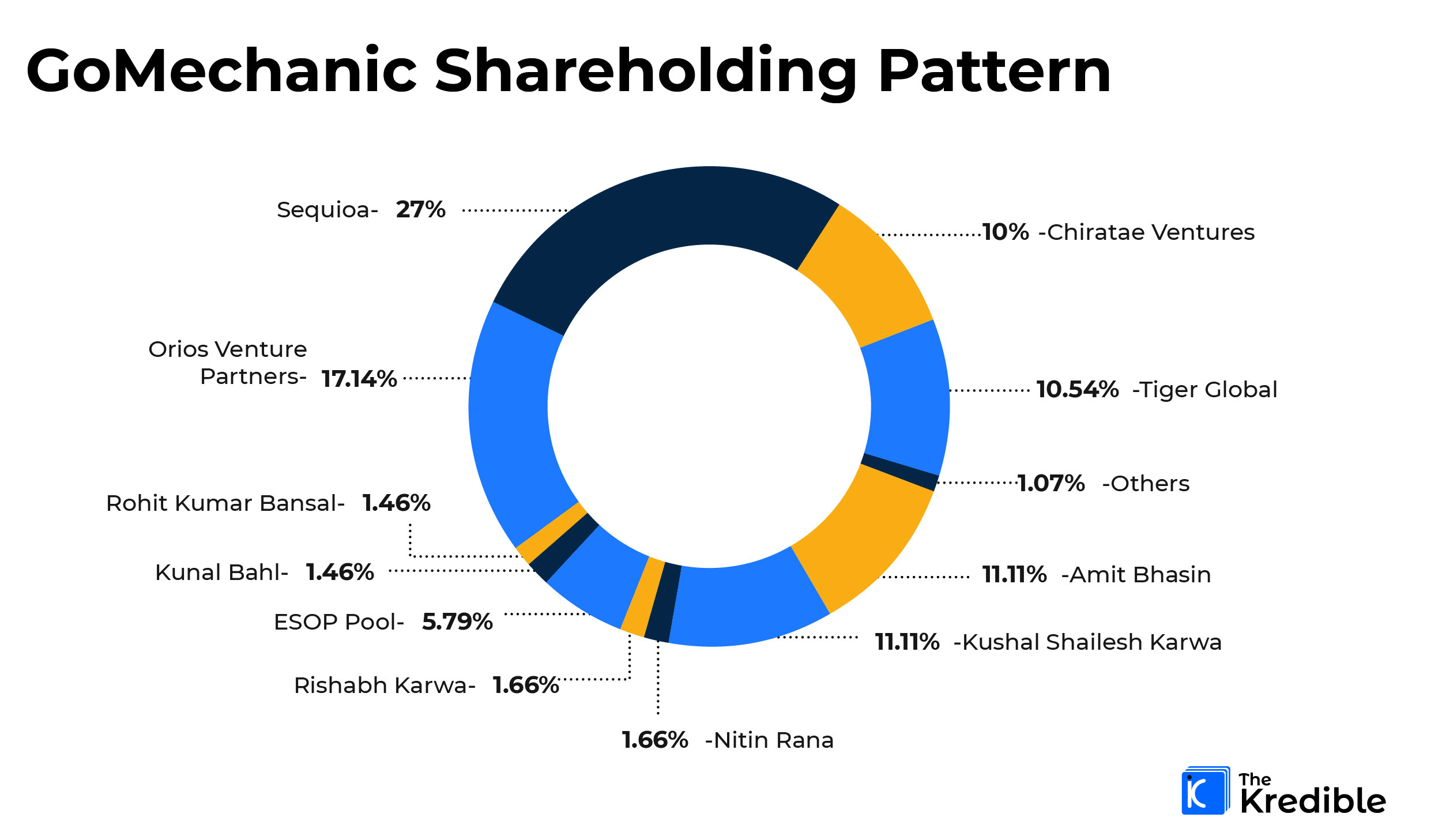 GoMechanic was founded in 2016 and claims to have more than 2 lakh users and a network of over 650 workshops under its brand name. Last year, it also forayed into selling spares parts under GoMechanic Spares. So far, the company has raised $61 million in total capital.
GoMechanic counts Blume Ventures-backed Pitstop, myTVS, and Crossroads among its major competitors. While the company is yet to file an annual financial statement for FY21, its operating revenue jumped to Rs 24.04 crore in FY20 from Rs 17.33 crore in the previous fiscal (FY19).
According to The Kredible, its expenses blew 6.9X to Rs 82.03 crore in FY20 which were Rs 22.64 crore in FY19. Its losses stood at Rs. 58.44 crore in FY20.